How to buy tickets
Booking online
You can now book and pay for Loft Theatre tickets online, any time day or night – go to our secure booking facility.
Booking in person
The Loft Box Office is open on all main house performance nights, and the two working days prior to a main house show opening, from 6.45pm until 8.30pm. For studio shows, it is open on performance nights only from 7pm until 8pm.
Telephone bookings
Telephone bookings may be made via our new general contact number, 01926 830680 – select option 0 on your telephone keypad to be connected to the box office. Outside box office opening times (see above) a message will be taken and your call will be returned or you can email boxoffice@lofttheatrecompany.com
Postal bookings
Write to:
Loft Theatre Box Office
Victoria Colonnade
Leamington Spa
CV31 3AA
Ticket Information
Ticket Prices 2017/18 Loft Theatre Company Productions
Full Price: Sunday – Friday £15.50 | Saturday £17.50
Concessions: Sunday – Friday £13.50 | Saturday £15.50
Students: Monday – Friday £8.00
Terms and Conditions
Concessions are aged 60+, full time students (including under 16s), claiming benefits
Musicals incur a £3.00 surcharge
Opening nights that fall on a Saturday will be charged at the lower price
Live at the Loft performances are individually priced
Seating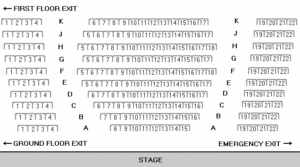 There is a single floor of 200 stall seats and the floor is well raked from the front to the rear of the auditorium to provide excellent viewing from all seats.
And for the ideal present…
Loft Theatre Gift Vouchers are available from the Box Office.
They are redeemable against tickets for all Loft productions and may be purchased to any desired value.
Loft Theatre Members
Our memberships are just £5 to join and all our members own a part of the theatre. Find out more here.
Season Tickets
If you are a regular visitor to the Loft Theatre, why not save some money by becoming a Season Ticket Holder? Find out more here.