Arts Insight @ The Loft
In 2022 The Loft Theatre Company will reach an impressive milestone; it will be celebrating its centenary. Established in Warwick in 1922 and despite two disastrous fires and a world war, other than during the pandemic, the theatre has never stopped performing.

We are thrilled to announce that Arts Insight will be joining this fantastic organisation from August 2021 leading the theatre's youth programme, which will offer up to 360 children per week the chance to engage and learn from experts in the fields of theatre skills both on and backstage.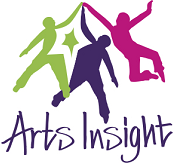 WHAT'S ON
Weekly Classes:
For eight months of each year Arts Insight will offer weekly classes for Juniors: 7-10 years. Inters: 11-13 years and Seniors: 14 years + performing arts and theatre skills classes on a Tuesday and Thursday evening and all day on a Saturday. All classes will take place in the Studio at The Loft.
Arts Insight believes passionately in the role of performing arts in improving children's development in essential life skills such as confidence, communication, teamwork, discipline and self-esteem. Our work is proven to be completely inclusive for children of any age, culture, physical and mental ability.
Master Classes:
Multiple times throughout the year Arts Insight will employ local and national professional practitioners to offer workshops for the students in specific areas such as Stand-up Comedy, Circus Skills and Theatrical Stage Makeup to name a few.
Main House Production (July/August each year):
Once a year members of Arts Insight @ The Loft will be given the opportunity to audition and interview for the cast and crew of the Main House production that will run for a week in July/ August to paying audiences. During a 4 month rehearsal period, up to 30 young performers and 12 backstage crew (for members who have completed year 11 and above) will be working with and taught by experts in the field of performance and theatre skills to include stage management, set design, (wardrobe) sound and lighting.
Studio Performances:
Throughout the year students will get to showcase their work in The Studio. This will enable a maximum number of students to gain live performance experience in front of an audience, whilst encouraging more of the local community into The Loft.
Apprenticeships (For 16 + years only):
We will offer six students a year the chance to take part in our Apprenticeship Scheme for Performance Arts (on stage) and Theatrical Skills (back stage). On successful completion of this 12 week programme each candidate will be given a reference and letter of support to use for their ongoing further educational journey and future career path. There will also be potential career opportunities within Arts Insight and The Loft's technical team.
For more information, enquiries and to register your child's interest click here https://www.arts-insight.com/
Or you can email Laura Berridge, Founder and Artistic Director at artsinsight@lofttheatrecompany.com